2010
exhibition, print, ephemera, archive, collaboration, research, collaboration
BEST WISHES NORA GEE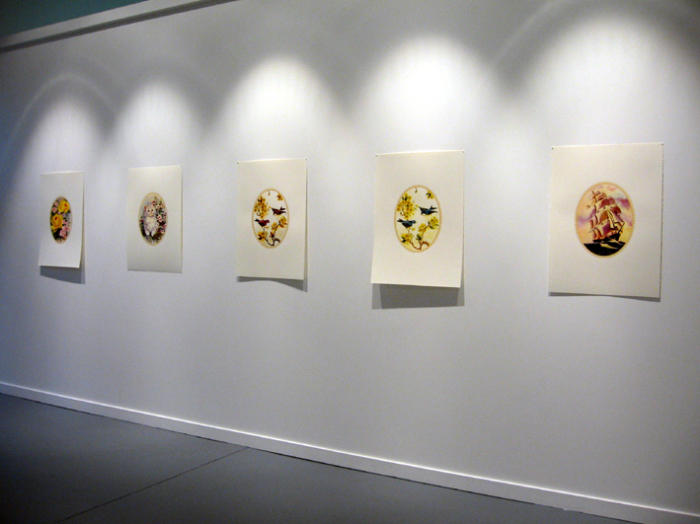 From the 1940s to the 1970s, housewife Mrs. Nora Gee kept the many of the greeting cards, invitations and telegrams that she was sent from family and friends. Mrs Gee's personal collection of 837 complete cards was discovered in an antique shop by an Auckland City Library employee and was entered into the library's Special Collection.


Over three months Taarati Taiaroa and Tracey Williams produced a database from Mrs. Gee's collection, which was recorded in a catalogue to accompany the show, and gifted in electronic and print format back to Auckland City Libraries . The catalogue, along with wall works and ephemera made in response to the collection and the process of recording it, was presented in an exhibition entitled
Best Wishes Nora Gee
at Elam School of Fine Arts' Projectspace B341 from April 22-24, 2010.
While
Best Wishes Nora Gee
was hinged on a specific narrative, it was intended to be a vehicle for dialogue around Print culture in an expanded field. The exhibition presented strategies for the re-employment of 'small' histories in a contemporary context by assessing methodologies applied to concept, materiality, dispersion and collection of print ephemera. As opposed to definitive summary of what print Is, it facilitated conversation around what it Might Be.
Download contextual interview.
Taiaroa, T., Williams, T. (2010). BEST WISHES NORA GEE: a complete collection. Auckland, New Zealand: Tracey Williams, Taarati Taiaroa, The University of Auckland. ISBN 277-0-0000698-5-4